How To Fix The Language Of The Outlook Web Access 2003 Forms-Based Authentication Login Page
The OWA 2003 FBA login page can be displayed in a variety of languages, depending on the Accept-Language header sent by your browser. This works fine, as long as users have access to their own computer. However, if someone borrows a computer that is configured for a different language, or logs into OWA from an Internet Cafe, the FBA logon page will appear in an unfamiliar language. Fortunately, there is a simple fix, which involves a small change to the owalogon.asp file.
The only purpose of the owalogon.asp file is to detect the accept-language header sent by the brower, and then see if it matches any of the subdirectory names within the exchweb\bin\auth folder. If it finds a match, the user is redirected to the appropriate language FBA form. You can bypass this whole process, and simply direct the user to the form of your choice.
First, locate the owalogon.asp file in C:\Program Files\Exchsrvr\exchweb\bin\auth. Make a backup copy (important!), and then open it in Notepad. Press CTRL-G to go right to the end of the file, and you should see this: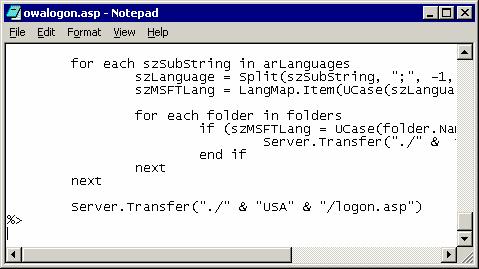 CTRL-C copy the entire line that looks like this:

  Server.Transfer("./" & "USA" & "/logon.asp")

Then press CTRL-Home to go back to the top of the file, and press CTRL-V to insert the copied line just before the
Set LangMap
instruction. You will need to change the value "USA", if necessary, but make sure that the folder name you change it to exists on the server. After the change, the beginning of the file should look like this: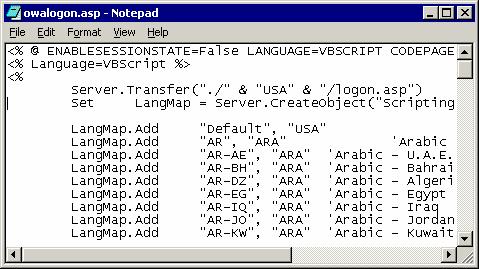 Save the file back to its original location, and you are done.
As with most of these type of modifications, you will need to check that they still function after each product update. Sometimes your modified file will be replaced by a new one from the update.